Ohio Small Business Insurance
Simple and easy insurance for your Ohio small business.
Get the Small Business Insurance Ohio Trusts
If you're looking for business insurance Ohio companies can rely on, biBERK has a proven track record and the policies you need. We offer different coverage packages to protect you from the many types of risk your business faces.
We Cover all Kinds of Professionals and Businesses in Ohio, Including:
Actuaries
Apartment buildings
Appraisers
Attorneys and law firms
Auditors and accountants
Auto service and repair centers
Barber shops and beauty parlors
Building electrician services
Business consultants
Carpenters
Certified financial analysts
Computer programmers
Concrete construction companies
Courier and messengers services
Drain cleaning and plumbing services
Electrical contractors
Electrical household appliance repair companies
Engineers and architects
Exterior painting companies
Fine dining restaurants
Floor covering stores and installers
HVAC companies
Insurance agents
Landscapers
Marketing and advertising agencies
Physicians and osteopaths
PR firms
Produce markets
Real estate companies
Residential cleaning services
Software development companies
Stores
Travel agencies
Trucking companies
Videographers and photographers
Why Choose biBERK for Your Business Insurance in Ohio?
We're the experts when it comes to small business.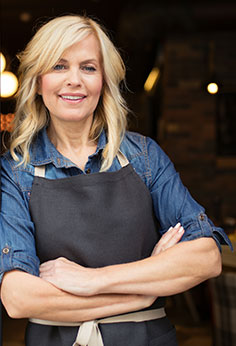 Save Time
Get a quote entirely online or speak with one of our insurance experts right away for help getting a quote, buying a policy, or answering any questions you may have.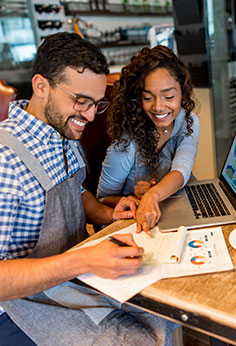 Save Money
We insure your small business directly, without a middleman or insurance broker, so we pass that savings on to you—up to 20% less than policies with other insurance companies.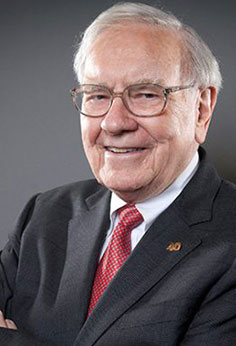 Experienced
We're part of Warren Buffett's Berkshire Hathaway Insurance Group with millions of satisfied customers, more than 75 years of insurance experience, and $38 billion in paid claims in 2020.
Workers' Compensation in Ohio
Ohio is one of four states that don't allow insurance companies like biBERK to sell workers' comp policies there. So, while we provide other types of small business insurance that can protect your company, if you're looking for workers' compensation in Ohio, you'll have to get it from the appropriate state entity.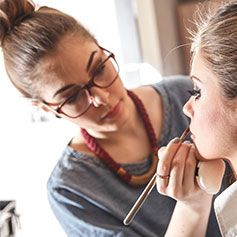 Why is biBERK Better for Small Business Insurance in Ohio?
When it comes to small business insurance in Ohio, we're often less expensive and easier to do business with than other insurance companies. That's better for you in many ways. We're also part of the Berkshire Hathaway Insurance Group, the nation's largest insurance company in terms of assets. You may know Berkshire Hathaway as the company started by Warren Buffett. Mr. Buffett began as a small business owner, and he's dedicated to providing small businesses with services and value that can help them grow.
Requirements for Small Business Insurance in Ohio
Workers' Compensation
In Ohio, every business with employees is required to carry workers' compensation insurance, which must be purchased from the appropriate state agency. Private companies like biBERK are not allowed to sell workers' comp policies in Ohio.
Other Policy Considerations
Many contracts require a general liability policy and/or a professional liability policy. Even if your customers, clients, or partners don't require you to carry specific policies, it's recommended that you carry policies to cover any part of your business that could be at risk. Financially protecting your company is one of the smartest business decisions you can make.
What Does Business Insurance in Ohio Cost?
The cost of business insurance in Ohio takes many factors into account, including your industry, the size of your business, your desired coverage, and any claims you've had in the past. Because of that, the cost of insurance can vary largely for different small businesses. Coverage for workers' compensation in Ohio must be purchased from the appropriate state agency.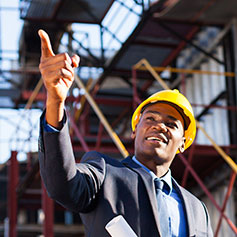 Frequently Asked Questions About Small Business Insurance in Ohio
What types of small business insurance do I need in Ohio?

keyboard_arrow_down

---

Every Ohio business is different, so we're best able to answer that question after getting some information about your company. However, general liability insurance is needed if you have customers on your premises, and errors and omissions insurance is important for individuals or businesses that provide a professional service or advice. If you have assets like equipment and furniture, or if you own buildings, a business owners policy or BOP (also called property & liability insurance) is important. And if you have employees, you'll need a workers' compensation policy from a state agency.

How long does it take to get small business insurance in Ohio?

keyboard_arrow_down

---

Getting a business insurance quote and then paying for one or more policies is fast and easy. It can take as little as five minutes, and your policy is issued immediately for the effective date.

Can I set up my policy to be paid automatically when premiums are due?

keyboard_arrow_down

---

Yes, our autopay feature is easy to activate and signing up gives you one less task to worry about.
Small Business Insurance in Ohio in Three Simple Steps
Get a Quote
Fill out a form online or give us a call to tell us about your company. You'll have a quote in as little as five minutes.
Buy a Policy
Complete your purchase and make payments online or over the phone. You can pay your premium all at once or in monthly installments.
Get a Certificate
Download an instant Certificate of Liability Insurance immediately after purchasing a policy.
Get a Quote Today
Trust biBERK for business insurance in Ohio and save up to 20%.