Restaurant Business Insurance
Ensure your establishment is properly and fully covered with business insurance for restaurants.
out of 5 rating and 200,000+ policies sold.
Protect Your Business and Employees With Restaurant Business Insurance
From employee injuries to property damage to customer slip-and-fall accidents, restaurant owners have to be prepared for the potential financial impact from a wide range of risks—making insurance for restaurant owners essential.

At biBERK, we provide tailored restaurant business insurance coverage at savings of up to 20%. Whether you need workers' compensation, general liability, a business owners policy or BOP (sometimes called property & liability insurance), commercial auto, umbrella, or cyber insurance, just complete a simple form online or speak with our licensed insurance experts to get a fast, free restaurant business insurance quote. Plus, with biBERK, you can purchase a policy, manage it, and report claims online for ultimate convenience.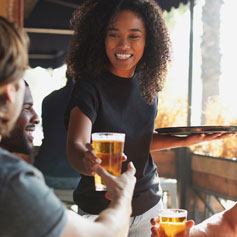 Who Needs Restaurant Business Insurance?
Business insurance for restaurants is especially important because of the risks involved for customers and employees of your business. Those risks can include everything from customers alleging they got sick from eating at your restaurant, to kitchen fires, to storm damage. Having the right amount of insurance for restaurants and bars can provide financial protection should something unexpected happen.
What Does Insurance for Restaurant Owners Cost?
Insurance for restaurants and bars will vary because your policy cost is calculated based on a number of factors. These include your location, business size, and claims history. You can get restaurant insurance quotes for all the policies you need online.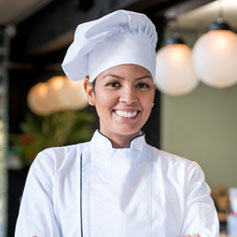 Any Business That Cooks and Serves Food Needs Restaurant Business Insurance, Including:
Bar and grills
Bistros
Buffets
Carryout providers
Caterers
Coffee shops and cafés
Concession stands/snack bars
Diners
Delis
Food delivery services
Food trucks
Family restaurants
Fast food establishments
Fine dining restaurants
Juice bars
Pizzerias
Restaurant franchises
Restaurant suppliers
Sandwich shops
Sports Bars
Taverns
Wine Bars
What are the Different Types of Insurance for Restaurant Owners?
At biBERK, we offer six different types of restaurant liability insurance for small business owners like you, including commercial insurance for restaurants. Depending on the location of your business and other factors, certain types might be better for you than others.
Workers' Compensation Insurance
If you have one employee or more, most states require you to have workers' compensation insurance. This type of insurance helps cover medical expenses and lost wages if an employee gets injured while working.
Workers' Compensation
chevron_right
General Liability Insurance
This type of insurance gives restaurant owners financial protection in the event of an accident or damage. While it's not required by law, you may have a contract or lease agreement that requires you to have general liability insurance. It helps cover claims such as legal and medical expenses related to customer injury or foodborne illness, damage to customer property, copyright infringement, libel, or slander. Plus, there are endorsements you can add to customize your policy, including liquor liability, cyber, hired and non-owned auto liability, employment-related practices liability, and employee benefits liability. Overall, general liability insurance is a basic way to financially protect your restaurant just in case something unexpected happens.
General Liability
chevron_right
Business Owners Policy
Also called property & liability insurance, a business owners policy (BOP) offers fairly comprehensive coverage for your restaurant business. The policy includes coverage for everything under general liability insurance, plus coverage for property your business owns and lost income in the event of damage to your business's property. You can even customize your property and liability policy with additional coverages for things like liquor liability, non-owned auto liability, food spoilage, cyber liability, fine art or other enhancements, and employment related practices liability. An equipment breakdown add-on can be particularly important for restaurants. It can help pay for repair or replacement, lost income while equipment is out of commission, and costs related to the time and labor required to make repairs.     
Business Owners
chevron_right
Commercial Auto Insurance
If you own vehicles that are used for any part of your restaurant business, like transferring food for catering or making deliveries, then you most likely need commercial auto insurance. This type of commercial insurance for restaurants can provide coverage for your legal fees and the medical costs of others if your employee is at fault in an accident. It can cover the cost of damages even if the vehicle is used for personal activities outside of its primary business use.
Commercial Auto
chevron_right
Cyber Insurance
This coverage can be purchased as an add-on to a general liability insurance for restaurants policy, professional liability, or BOP coverage. It helps cover costs related to system hacks or data security breaches in which sensitive information has been stolen and fraud has occurred or there is a reasonable expectation that it might occur.
Cyber Insurance
chevron_right
Umbrella Insurance
This type of insurance is an added layer of financial protection. It gives restaurant owners like you extra coverage when your claim exceeds the limit of a general liability or commercial auto insurance policy you already have from biBERK.
Umbrella Insurance
chevron_right
Why biBERK for Restaurant Business Insurance?
We're the experts when it comes to small business insurance.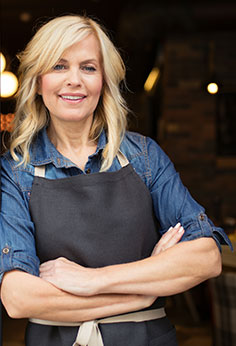 Save Time
Get a quote entirely online or speak with one of our insurance experts right away for help getting a quote, buying a policy, or answering any questions you may have.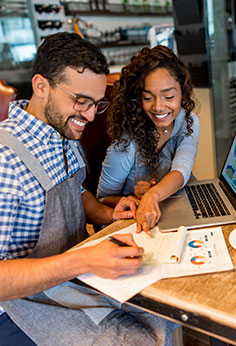 Save Money
We insure your small business directly, without a middleman or insurance broker, so we pass that savings on to you—up to 20% less than policies with other insurance companies.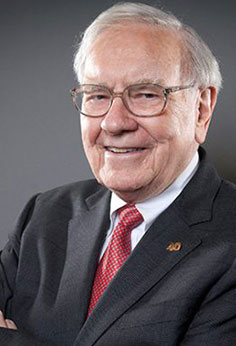 Experienced
We're part of Warren Buffett's Berkshire Hathaway Insurance Group with millions of satisfied customers, more than 75 years of insurance experience, and $38 billion in paid claims in 2020.
Get a Quote Today
See why biBERK is easier and more convenient for restaurant insurance when you obtain your free quote online.