What is Professional Liability Insurance?
When considering, "What is professional liability insurance?", it is maybe best summarized by another name that's often used for it: errors and omissions insurance (or E&O insurance). A professional liability insurance definition would say it's a type of small business insurance coverage that protects you from financial consequences if a client accuses you of not living up to the accepted standards and best practices of your profession.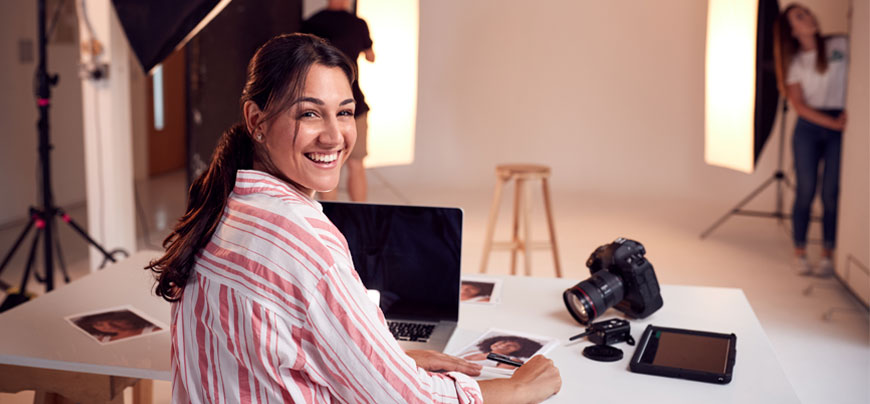 What is Professional Liability?
Professional liability refers to the risk involved in providing services to clients. When it comes to what does professional liability insurance cover, it can protect you if a client accuses your company of:
check

Unfulfilled duties. This occurs when you're expected to perform actions but fail to do so. For instance, your accounting firm is supposed to file the client's tax return by an agreed-upon deadline and you do not.

check

Negligence. Negligence is defined as not using proper care when performing an important task. For example, as an insurance agent, you forget to tell a client about crucial coverage and they're left with a gap in protection.

check

Errors. Errors are mistakes made by you or your employee that result in the client suffering a financial loss.
Curious About Your Professional Liability Insurance Cost? Get a Fast, Online Quote.
Now we've covered the question of, "What is professional liability insurance?", let's look at how much it costs. Professional liability insurance policies from biBERK start at around $300 and can go up into the thousands. Your professional liability insurance cost (which you can get in a fast online quote) is based on things like your industry, the level of coverage you choose, how long you've been in business, how many employees you have, your annual revenue, and the policy limits you need.
The Professional Liability Insurance Companies Depend On
biBERK provides professional liability insurance companies can rely on, and also that they can afford. We insure your small business directly, without middlemen or insurance brokers. As a result, we pass significant savings on to you—up to 20% compared to other insurance companies. 
Plus, we're part of Warren Buffett's Berkshire Hathaway Insurance Group with millions of satisfied customers, more than 75 years of insurance experience, and $38 billion in paid claims in 2020. So, you know you can count on us if an incident occurs.
Professional Liability Insurance Frequently Asked Questions
Our licensed insurance experts are always happy to assist you, but below are answers to questions we're frequently asked about professional liability insurance. 
Are professional liability and errors and omissions (E&O) insurance the same thing?
Yes, they are. The two terms tend to be used interchangeably. 
What is a retroactive date?
A retroactive date is a date agreed on by you and your current insurance company. Any work done by you before the retroactive date will not be covered under your current policy or this policy. You likely will find this date in your current policy documents or from your current agent. For example, let's say your policy was active beginning July 1 of last year with a retroactive date of January 1 of last year. If work you did in March of last year results in a professional liability lawsuit, it may be covered since the work took place after the retroactive date.
What is professional liability insurance?
Professional liability insurance (also called errors and omissions insurance) can cover your small business if a client accuses you of making a mistake (an error) or failing to do something (an omission). The cost of defending a claim can be covered even if the claim proves to be baseless.
What does professional liability insurance cost?
The cost of professional liability insurance depends on factors like your industry, years in business, and number of employees, as well as the level of coverage you select. Our professional liability insurance policies start around $300 per year and go up from there.
Who needs professional liability insurance?
Like the cost of professional liability insurance, whether you need it and the amount you should have is based on many factors. Our licensed insurance experts can help you assess and address your needs.
What is the minimum amount of liability insurance required?
The minimum requirement for individual professional liability insurance depends on your type of business and your location. We can provide guidance on the amount you need. In some cases, the minimum requirement may be specified in contracts you have with your clients.
Does my business need errors and omissions insurance?
Errors and omissions insurance is another name for professional liability insurance. If your business provides professional advice or services, it's a good idea to have errors and omissions insurance and it may be required by law.
How is professional liability insurance different from general liability insurance?
General liability insurance covers accidents that cause damages such as bodily injury or property damage. Professional liability insurance addresses claims for financial losses from a client that you made a mistake or failed to do something you were obligated to do.
Does biBERK offer professional liability insurance in my state?
Yes, we provide coverage in all 50 states.
Does professional liability insurance cover my company even if a lawsuit is baseless?
Yes, even if there are no grounds for a claim, your policy can provide protection.