Protect Your Business With Auto Service Insurance
If your company services vehicles, you face many business risks. Service centers are busy places where it's easy for employees to suffer injuries, so you need to protect them financially from the resulting medical bills. If you damage a customer's vehicle, they can sue you, and a court can find you liable for the cost of repairs.
And those are just two examples of why you need what's called auto service insurance. (You might see similar names if you're in another auto-related industry, like "auto detailing insurance.") That term doesn't refer to a single policy but rather multiple policies that address different risks.
What are auto service insurance policies? What do they cover? What do these small business insurance policies cost? This article answers those and other questions that vehicle service providers often ask.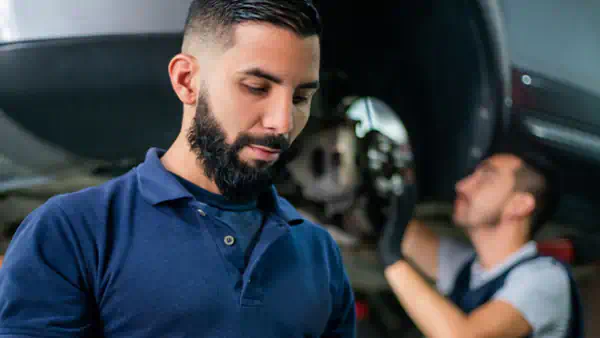 5 Crucial Auto Mechanic Insurance Policies
At biBERK, we offer small business insurance policies that provide financial protection from the risks that most often affect auto service centers:
Workers' compensation insurance. If your company has employees, your state probably requires you to have workers' comp coverage. It pays medical expenses and lost wages from on-the-job injuries or illnesses. It can also provide a "death benefit" to the family of someone who dies at work.
General liability insurance. This policy addresses various business risks, including damages and legal costs associated with incidents like injuries to non-employees (slip-and-fall accidents, for example) and property damage. It also has options for what are called garage liability (extends liability coverage to operating a customer's vehicle as part of repairing it) and garagekeepers coverage (for damage to customers' vehicles left in your care). In addition, general liability covers libel, slander, and copyright infringement. Plus, you can customize your general liability insurance policy with endorsements like cyber coverage, hired and non-owned auto liability, employment-related practices liability, and employee benefits liability. 
Business owners policy (BOP). Sometimes referred to as property & liability insurance, this policy conveniently combines general liability insurance with coverage for the space you operate out of and any property you need to run your business. Like a general liability policy, it has garage liability and garagekeepers coverage options. In addition, the policy covers business interruption, including lost income and expenses for continuing or resuming operations after a covered loss. You can tailor your BOP with the same add-ons available for a general liability policy—cyber coverage, hired and non-owned auto liability, employment-related practices liability, and employee benefits liability. 
Cyber insurance. You purchase cyber coverage as an add-on to a BOP or general liability policy. It can pay costs related to system hacks or data security breaches where someone steals sensitive information and uses it or is likely to use it to commit fraud. 
Umbrella insurance. Umbrella insurance provides additional protection on top of a biBERK liability policy. If a claim exceeds your policy limit, umbrella insurance can cover the difference up to its own limit. 
You can find more information on these policies on our website. But if you have any questions or are unsure about which policies you need, our licensed insurance experts are happy to talk with you about your auto service business. Then they can help you decide how to protect your company most effectively.
It's crucial to have adequate coverage since one incident not covered by insurance can have a significant impact on your company's financial stability. Unfortunately, many businesses fail each year under the weight of an expense that could have been avoided.
Employee These Types of People? You Likely Need Auto Service Insurance
Whether you call your business an auto service center, garage, car lot, or some other term, you likely need auto service insurance if you employ people with these job titles or skills (or if they describe you): 
Car mechanics
Auto body technicians
Tire technicians
Service managers
Automotive equipment installers
Diesel mechanics
Vehicle inspectors
Automotive paint specialists
Van conversion experts
Master mechanics
Mobile car mechanics
Transmission experts
That's not a complete list, but it gives you an idea of who needs auto service insurance. 
Common Auto Service Insurance Claims
Has your business experienced these types of incidents?
An employee strikes their head on a piece of equipment and suffers a deep cut.
A storm damages your garage and you have to work out of rented space while it's repaired.
A customer slips on a bit of oil on the floor at your repair shop, falls, and breaks their wrist.
Your technician damages a customer's car while backing it out of a service bay.
Hackers access your computer network and steal sensitive customer information. 
If you haven't been affected by these types of things, that's great. But it's probably just a matter of time. And when an incident occurs, it can be very expensive for your business if you don't have the right insurance coverage.
What Does Auto Service Insurance Cost?
Automotive business insurance includes various policies for the different risks a company faces. That's helpful since it means you can purchase the policies you need and disregard those you don't. For example, if you're comfortable with the limits on your liability coverages, you may not need an umbrella policy.  
Once you decide which policies you need, you can get instant, self-service quotes whenever it's convenient for you—in the morning before your customers start arriving, in the evening when things quiet down, or anytime you have just a few minutes. All our system needs is a little information about your company (size, claims history, etc.), and it can provide an instant quote on a policy. 
Generally speaking, you'll find that you can get hundreds of thousands of dollars (or more) of coverage for as little as hundreds annually. It's a tremendous value when you consider the financial consequences a policy can prevent. And because we sell insurance directly to you with no brokers or other intermediaries, we can offer policies for up to 20% less than other providers. 
If you decide to buy one or more policies, you can also do that online, and the coverage is typically active the next day. Plus, you can report claims and manage your policies online, too. 
And although we've made pricing and purchasing insurance online simple, our licensed insurance experts are happy to answer any questions you have about coverages, endorsements, etc. 
Auto Service Insurance From a Trusted Source
Remember that where you get your auto service insurance is important. Nobody wants to report a claim and learn that their provider can't pay it fully or won't pay it promptly. biBERK is part of the Berkshire Hathaway Insurance Group. That means you can sleep well at night knowing that your policies have strong financial backing from one of the most respected names in insurance.