How Small Business Insurance Protects Bakeries
Bakery insurance (sometimes called insurance for bakers or bakery cover) is a term for the various types of small business insurance that a bakery might need. Rather than one policy to cover all risks, bakers purchase different policies to protect themselves financially from the types of incidents they're most likely to encounter.
For example, a bakery that offers delivery service using a company-owned or leased vehicle needs commercial auto insurance. One that only sells its baked goods onsite at its store and doesn't have any company vehicles doesn't need that coverage.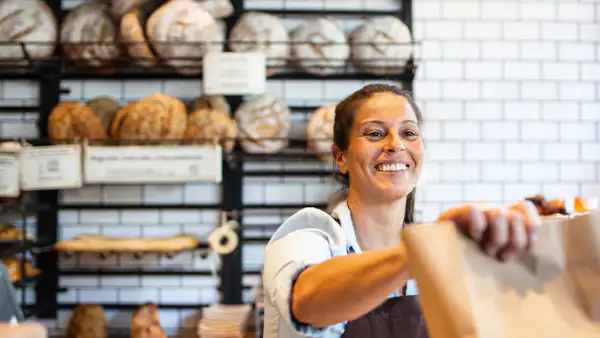 biBERK Understands Bakeries and Other Small Businesses
biBERK serves small businesses in many industries. And while they all offer different products and services, they face many of the same challenges that bakeries do—protecting themselves financially with affordable business insurance, getting that coverage quickly and efficiently so they can stay focused on customers, etc.
We understand. That's why we took brokers out of the equation and sell bakery insurance directly to you for up to 20% less than other providers. It's also why we make it easy for you to get bakery insurance quotes for the coverage you need, buy policies, and report claims all from our website.
Insurance for Bakers: 6 Policies Your Business May Need
Each bakery is unique and faces different business risks. However, every business in this industry needs some or all of these six common insurance policies for selling baked goods.
Bakery General Liability Insurance
One of your customers slips on the wet floor in your store, falls, and breaks their arm. If they sue you for the cost of their medical care, a general liability policy can cover the associated legal fees and damages. This type of insurance also covers things like libel, slander, and copyright infringement. Plus, you can add endorsements to customize your policy, including cyber, hired and non-owned auto liability, employment-related practices liability, and employee benefits liability.
Bakery Workers' Compensation Insurance
One of your employees suffers a serious burn that requires medical treatment. Workers' comp can cover their medical costs and also lost wages related to the injury. Nearly all states require companies with employees to have workers' comp coverage.
Bakery Commercial Auto Insurance
An employee driving your delivery van is at fault in an accident that injures another driver and damages their vehicle. This type of bakery insurance can cover your legal fees and the medical costs of others in that type of scenario. It can pay for damages even if the vehicle is used for personal activities outside of its primary business use.
Bakery Business Owners Policy
A storm causes a partial roof collapse that damages equipment in your kitchen. A business owners policy (BOP) can pay to repair or replace the appliances and repair the building damage. Sometimes called property and liability insurance, a BOP combines general liability protection and coverage for property, such as the building you own, a space you lease, and any equipment needed to run your business. It can also provide payment for business interruption due to a covered loss, including expenses associated with continuing or resuming operations after suffering property damage. As with a general liability policy, you can customize your BOP with add-ons, including cyber, hired and non-owned auto liability, employment-related practices liability, and employee benefits liability.
Bakery Cyber Insurance
Someone hacks your computer network, steals customer credit card numbers, and uses the information to commit fraud or is likely to do so. This coverage, which you purchase as an add-on to a BOP or general liability policy, can pay costs related to the cyber incidents.
Bakery Umbrella Insurance
A lawsuit filed by a customer injured on your property exceeds the limit of your general liability policy. An umbrella insurance policy can cover costs exceeding the limit of another biBERK liability policy up to its own limit. Without it, you may be responsible for anything over your policy limit.
Who Needs Bakeries Insurance?
Not every business that needs bakeries insurance calls itself a bakery. Many related companies require small business insurance. These types of organizations and professionals can benefit from bakery insurance:
Bakery shops
Bagel shops
Baked goods shops
Bakery delivery
Cake decorators
Cake designers
Chocolatiers
Commercial bakers
Cookie bakers
Cupcake bakeries
Donut shops
Food stylists
Home bakeries
Pastry chefs
Pastry shops
Production bakers
Retail bakers
If your type of business isn't on this list, but you wonder if you need coverage, contact us and we can help you decide based on our work with other bakeries.
Six-Figure Financial Protection for Your Bakery for Just Hundreds Annually
What you'll pay for bakery insurance policies depends on multiple factors, including your company's size, claims history, and other considerations. But generally speaking, you can get hundreds of thousands of dollars of financial protection for as little as a few hundred dollars per year.
Get specific costs with instant, self-service quotes for the policies you need. Then, if you decide to buy your coverage from biBERK, you can purchase policies, manage them, and report claims on your website, as well, for maximum convenience.
Essential Bakery Insurance From a Trusted Provider
biBERK is a Berkshire Hathaway Insurance Group company. As an organization, we have over 75 years of insurance experience and millions of satisfied customers. What's more, we paid $38 billion in claims in 2020. That means if you ever need to report an incident, you can be assured that we'll be there for you and pay any covered claim promptly.
By choosing biBERK insurance products, you're making the right choice to obtain solid financial protection for your company at a great rate. And knowing you've got biBERK behind you can help you sleep better at night and stay focused on operating a successful business during the day.