Insurance for Insurance Agents: Policies Agents Need
If anyone understands risk, it's insurance agents. Even as you help customers choose and purchase insurance policies, you're facing your own business risks.
First and foremost is the risk of being sued if a customer alleges you made a mistake advising them about insurance coverage and it cost them money. Even if you did nothing wrong, you have to defend yourself and your business.
And that's not the only type of issue for which you need financial protection. For example, a customer's "slip-and-fall" accident at your office can result in an injury that leads to a costly lawsuit. Fortunately, insurance for insurance agents can address all the types of risks you face.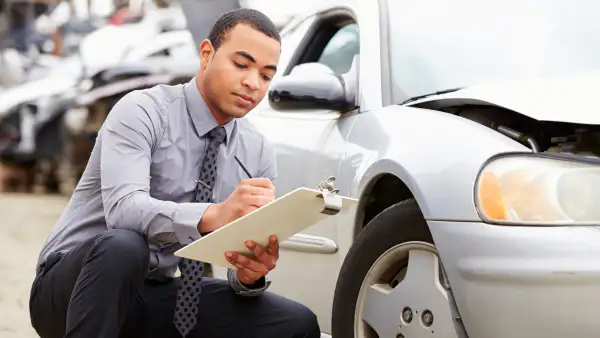 Critical Coverages for Insurance Agents
Every insurance agent and agency operates differently and faces a unique set of challenges. Consequently, providers' insurance portfolios vary.
However, every insurance entity needs one or more of seven critical small business insurance policies:
Errors & Omissions Insurance
Also called professional liability insurance, this policy can pay the cost of damages and legal fees if someone claims your professional service caused them or their business financial harm. Coverage includes mistakes on the part of your business (errors) and the failure to perform a service (omissions). E&O coverage is essential for every insurance professional.
Workers' Compensation Insurance
If you operate an insurance agency that has employees, you probably are required by your state to have workers' compensation coverage. Workers' comp for insurance agents helps protect your business if an employee is injured, contracts an illness, or dies as a result of an incident on the job. It can cover medical costs, legal fees, and lost wages due to the injury.
General Liability Insurance
Sometimes referred to as commercial liability insurance, general liability insurance covers several risks, including injury claims from non-employees, damage to the property of others, libel, slander, and copyright infringement. Plus, there are endorsements you can add to customize your policy, including cyber, hired and non-owned auto liability, employment-related practices liability, and employee benefits liability.
Business Owners Policy
A business owners policy (BOP) combines general liability insurance with coverage for your company's property. Also known as property & liability insurance, this policy protects the building you own, space you lease, and any property needed to run your business. It also covers business interruption, potentially replacing lost income and costs associated with getting your business back up and running after suffering a covered loss. You can also tailor your BOP with add-ons including cyber, hired and non-owned auto liability, employment-related practices liability, and employee benefits liability.
Commercial Auto Insurance
If your company owns or leases vehicles, this policy protects your business if you or an employee are at fault in an accident that causes property damage or injuries. It can cover the cost of damages even if the vehicle is used for personal activities outside of its primary business use.
Umbrella Insurance
Every liability policy has a maximum value that it will cover in the event of an incident. Umbrella insurance adds another layer of protection, paying costs that exceed the underlying biBERK policy up to the umbrella policy's limit. Without umbrella insurance to cover an insurance gap, you may be responsible for paying anything over your policy limit out of your business revenues or savings.
Cyber Insurance
This coverage can be purchased as an add-on to a BOP, general liability, or errors and omissions policy. It helps cover costs related to system hacks or data security breaches where someone has stolen sensitive information and has used or will likely use that information to commit fraud.
Specifics on E&O Insurance for Insurance Agents
As one of the most important types of coverage for insurance agents, E&O can pay claims related to three primary types of errors or omissions:
Unfulfilled duties. For example, if you agree to file paperwork related to a new policy or an insurance claim and fail to do so, your client might suffer financial damages. If so, they may file a lawsuit looking to recover their losses.
Negligence. Let's say a customer has a coverage gap because you forget to inform them about an essential coverage they need. They may sue you if that gap leaves them with a large financial obligation later.
Errors. Imagine that you've completed the forms to purchase insurance for your customer, but you made a mistake on one of them, and it hurts the company financially. They may sue you for compensation.
Despite your best efforts, you're human and could potentially make mistakes. Simply hoping you don't is a risky strategy since just one lawsuit can create a burden that threatens the financial stability of your business. Sadly, every year there are businesses that permanently close their doors for this reason. That's unfortunate since insurance agent professional liability insurance is very affordable.
Are Insurance Agents Required to Have E&O Insurance?
Requirements for E&O coverage vary by state. For example, certain limits may be required by insurance carriers for agents to get appointed. Other states, such as California, require insurance companies to have E&O to keep their licenses intact.
However, even if this type of coverage isn't required where you are, it's a good idea to have it. The peace of mind that comes from knowing that an error or omission doesn't have to damage your business financially is priceless. And operating your business confidently tends to impress your existing clients and help you attract new ones.
But, of course, as an insurance professional, you understand that insurance should be viewed not as an expense, but rather as an asset. And when you learn that small business insurance policies can provide hundreds of thousands of dollars of protection or more for as little as hundreds annually, it's clear just how affordable that asset is.
Get Quotes and Buy Coverage Easily Online
Whether it's E&O or workers' comp for insurance agents, with biBERK, you can get instant, self-service quotes online. All you have to do is provide a little background information and in a matter of minutes, you know what you'll pay to protect your business.
Then, you can purchase coverage, report claims, and manage your policies online, too. All interactions with biBERK are designed to be convenient for busy insurance professionals.