How Small Business Insurance Protects Consultants
Working as a consultant can be exciting and rewarding. However, consultants also face many kinds of business risks. That's true for professionals in a wide variety of industries, including: 
Agricultural consultants
Architectural consultants
Business consultants
Career coaching consultants
Educational consultants
Engineering consultants
Environmental consultants
Financial consultants
Human resources consultants
Image consultants
IT consultants
Management consultants
Marketing consultants
Operations consultants
Political consultants
Retail sales consultants
Social media consultants
Software consultants
And many others
From lawsuits to property damage, costly incidents can occur at any time. Fortunately, you can protect yourself financially by having consulting business insurance. "Consulting business insurance" is a term that encompasses several different types of small business insurance.
Policies exist to cover different kinds of incidents. That way, you can purchase the coverage you need without paying for coverage you don't.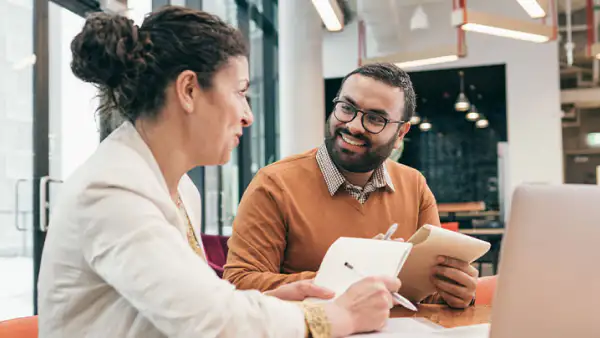 Insurance for Consulting Businesses
What types of consulting business insurance should you consider? Here are six that consultants often purchase to ensure they have adequate financial protection:
General liability insurance. This policy covers damages and legal costs associated with injury claims by clients and other people you don't employ, damage to other people's property caused by your business, and medical costs associated with these incidents. It also covers libel, slander, and copyright infringement. Plus, there are endorsements you can add to customize your consultant general liability insurance policy, including cyber, hired and non-owned auto liability, employment-related practices liability, and employee benefits liability.
Professional liability insurance. Also known as errors and omissions (E&O) insurance, this policy could protect you from the cost of damages and legal fees if someone alleges your professional advice or service caused financial harm to them or their business. Consultant errors and omissions insurance coverage includes mistakes (errors) and the failure to perform a service (omissions).
Business owners policy (BOP). Also called property & liability insurance, this policy combines general liability insurance with coverage for your property. It protects the building you own, the space you lease, and any property needed to run your business. You also get coverage for things like business interruption. It can replace lost income and cover other costs related to getting your business back up and running after suffering property damage, such as the use of a temporary location. You can tailor your BOP with add-ons, including cyber, hired and non-owned auto liability, employment-related practices liability, and employee benefits liability.
Cyber insurance. This coverage can be purchased as an add-on to a BOP, general liability, or professional liability policy. It helps cover costs related to system hacks or data security breaches in which sensitive information has been stolen, and fraud has occurred or might happen.
Workers' compensation insurance. This insurance generally is mandatory if you have employees. As noted above, it helps protect your business if an employee is injured, contracts an illness, or dies due to an incident on the job. It can cover medical costs, legal fees, and lost wages due to the injury.
Umbrella insurance. Every liability insurance policy has a maximum value that it will cover in the event of an incident. Umbrella insurance adds another layer of protection. It can cover costs that exceed the limit of another biBERK liability policy, subject to its own limit. Without it, you may be responsible for anything over your policy limit. In some circumstances, purchasing this coverage may be necessary to comply with the minimum coverage requirements in your consultant's contract.
Pricing and Purchasing Consulting Business Insurance
Buying insurance for your consulting business is simple. You can get instant, self-service quotes for the policies you're considering online and then purchase them on our website, as well. Using your policies is also easy, as you can report a claim, obtain a Certificate of Insurance, etc., online. 
Your quotes will provide specific costs, but the great news is that small business insurance is very affordable. For what is often a few hundred dollars annually, a particular policy might provide financial protection in the hundreds of thousands or more. 
And you can't put a price on the peace of mind you get from having adequate insurance coverage. Rather than worrying about the cost of a lawsuit, property damage, etc., you can focus on providing exceptional advice and services to your clients, knowing that if the unexpected occurs, you're ready.
Beyond Business Insurance for Consulting: Actions to Take to Protect Your Business
Having consulting business insurance is crucial since you never know when you might need it. Another way to protect your business financially is to follow best practices, like:
Doing great work. Meeting client expectations helps your business in many ways, including getting referrals. It also reduces the risk of being sued by clients.
Understanding and meeting the standards for your industry. One of the factors considered in lawsuits over your advice or services is whether your work met applicable standards. So, you must be sure to stay current on those requirements and meet them in every engagement.
Maintaining open lines of communication with clients. Despite your best efforts, there will likely be clients who take issue with your work. But if you keep the lines of communication open during and after your project, they're much more likely to try to work things out rather than filing a lawsuit.
Maintaining a safe work environment. If clients or others visit your office, you must keep the premises safe. For example, if you fail to fix a tear in the carpet or a loose handrail by the stairs, and a client falls and suffers an injury as a result, they may sue you for the cost of their medical care, time off of work, etc.
Using caution when visiting clients. One careless action at a client location can cause costly property damage or injuries.
Protecting sensitive information. Allowing a hacker to gain access to your computer or network can lead to significant headaches and large expenses. Be sure your systems and data are appropriately secured.
Consulting Business Insurance You Need From a Trustworthy Provider
All business insurance companies are not the same. You want to be sure to work with one that has extensive experience, plenty of resources for paying claims, and an excellent reputation. biBERK meets all those criteria and provides tailored coverages at great rates backed by attentive customer service.