Food Service Insurance: Financial Protection Your Company Needs
Whether you're a caterer, food truck operator, meal prep company, or other organization focused on the culinary arts, you need financial protection in case you suffer a loss or get sued. Depending on the type of work you do, you may need one or more of what are referred to collectively as food service insurance policies. 
That statement may bring up several questions. What are the different food service insurance policies? What types of incidents do they protect my business from? How much does food service insurance cost? What's involved in pricing and purchasing policies? This article answers these and other essential questions.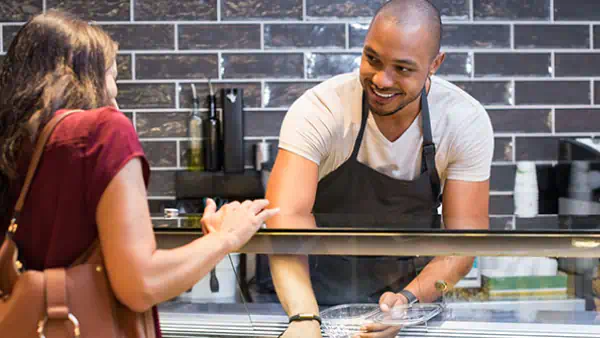 Examples of Food Service Insurance Claims
If you're in food service, you probably have experienced these types of incidents (or know someone who has):
Your employee spills a tray of food that stains the expensive rug in a customer's home.
A customer visiting your restaurant trips on damaged flooring, falls, and suffers an injury.
Your delivery driver is at fault in an accident in a company vehicle that injures another driver.
A cybercriminal accesses your network and steals customer credit card data.
A storm damages the roof at your restaurant.
Your employee suffers a deep cut while chopping vegetables.
Having adequate food service insurance coverage means these kinds of things don't have to hurt your business financially.
Insurance for Food Service Companies: 6 Vital Policies
At biBERK, we offer the six small business insurance policies that food service companies need to protect themselves from the risks they're most likely to face. Our knowledgeable licensed insurance experts can talk with you about your business and determine which of these coverages you need:
Workers' compensation insurance. Food service companies with employees are almost always required by their state to have this type of insurance. It pays for medical expenses and lost wages from on-the-job injuries or illnesses. It can also provide a "death benefit" to the family of someone who dies at work.
General liability insurance. Some people refer to this type of food service liability insurance as commercial liability coverage. It's designed to address various business risks, including damages and legal costs associated with incidents like injuries to non-employees (slip-and-fall accidents, for example) and property damage. It also covers libel, slander, and copyright infringement. Plus, you can add any of several endorsements to customize your general liability insurance policy, including: spoilage coverage, hired and non-owned auto liability, off-premises coverages like business personal property protection for catering equipment and business interruption for food trucks, liquor liability, cyber, hired and non-owned auto liability, employment-related practices liability, and employee benefits liability.
Business owners policy (BOP). Also called property & liability insurance, this policy conveniently combines general liability insurance with coverage for the space you operate out of and any property you need to run your business. It also covers business interruption, including lost income and costs to continue or resume operations following a covered loss. In addition, you can tailor your BOP with the endorsements listed above under general liability insurance.
Cyber insurance. You purchase cyber coverage as an add-on to a BOP or general liability policy. It can pay costs related to system hacks or data security breaches where someone steals sensitive information and uses it or is likely to use it to commit fraud.
Commercial auto insurance. If your business owns or leases vehicles for work purposes, this policy protects them and your company if you or an employee is at fault in an auto accident that causes third-party property damage or injuries.
Umbrella insurance. Umbrella insurance is designed to cover the gap between the upper limit of a biBERK liability policy and the amount your business is liable for from an incident. The umbrella policy can address the difference up to its own limit.
Whether you need a few of these policies or several, having coverage can keep a loss or liability from creating a financial "existential crisis" for your business. Sadly, the cost of one incident can put many small businesses out of business.
Insurance for the Food Service Industry: Who Needs It?  
The term "food service" covers many types of companies. Some of those we insure most frequently include:
Caterers
Food trucks
Catered event businesses
Kitchen staff
Cooking companies
Chefs
Culinary companies
Food delivery companies
Beverage stores
Meal preparation companies
Food service providers
Catering companies
Food vendors
Gourmet cooking businesses
What Does Food Service Insurance Cost?
One of the great things about insurance for food service companies is that there are different policies for different risks, as noted above. That means you can purchase only the coverage relevant to your operations, not other policies. For example, if your business doesn't own or lease cars or trucks, you don't need commercial vehicle insurance.
Regarding the policies you do need, several factors affect what you'll pay for each. They include the size of your business, your claims history, and others. But, generally speaking, business insurance is more affordable than many think. You can typically get hundreds of thousands of dollars in coverage (or more) for as little as hundreds annually.
To learn specifically what you'll pay, you can get instant, self-service quotes online at your convenience. Have a few free minutes while you drink your morning coffee? Just provide some basic information about your business, and you can have a policy quote before you finish your first cup! And because we provide insurance directly to you, with no intermediaries, we can offer policies at up to 20% less than other insurance companies. That means more of your hard-earned revenue stays in your bank account!
Buying policies is equally easy. No need to travel to an insurance agent's office. You can purchase your coverage online, and it's typically active the next day. And you can download a Certificate of Insurance (COI) for each of your policies in case you need to provide proof of coverage to a landlord, potential client, etc.
What's more, if you need to report a claim, you can also do that on our website. And if you ever have questions, our licensed insurance experts are here for you!
Get Great Food Service Insurance Coverage and No Hassles From biBERK
Our goal is to simplify buying, managing, and using food service insurance policies. You face enough challenges running your business. Our team and user-friendly website take the hassle out of getting and maintaining insurance coverage. And you'll sleep better at night knowing your policies are backed by the financial stability of Berkshire Hathaway.