Understanding Handyman Insurance
As a handyman, every project you take on is unique and presents different risks. For example, you might do some basic plumbing work that produces a leak that causes damage. The same is true if you do minor roof repairs. And there are many risks associated with remodeling projects.
One mistake in the services you provide can lead to property damage or an injury and potentially a lawsuit. That's why you need handyman insurance policies.
And there are more risks besides getting sued. Most states require a type of handyman insurance called workers' compensation if you have employees. It's required for nearly all businesses that employ workers. It helps pay for their medical costs and other expenses related to an incident if they get injured on the job.
In addition, there are risks associated with people driving company vehicles. Consequently, obtaining the right handyman insurance policies which provide coverage for company vehicles is both required in some instances and a good idea! Plus, handyman business insurance is affordable—especially when you consider what can happen if you don't have adequate coverage.
It's a scenario no handyman wants to experience: A mistake on your part causes significant damage to a customer's property and they sue you. The cost of your legal defense plus court-awarded damages leads to a large financial burden and a hardship for you and your business.
Sadly, all it takes is one incident to put a business in jeopardy. But fortunately, handyman insurance policies can protect you.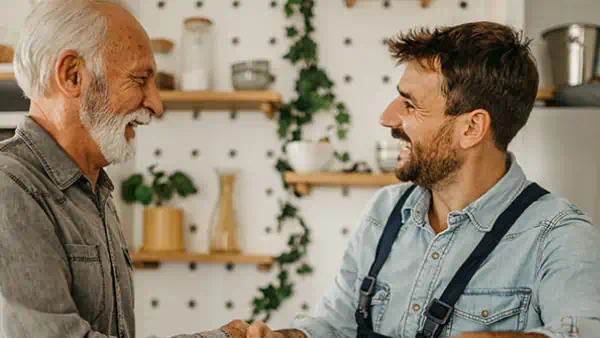 Do You Need Handyman Insurance?
Maybe you don't call yourself a handyman. Perhaps one of these terms more clearly describes what you do:
Apartment maintenance expert
Cabinetry expert
Craftsperson
Drywaller
Fix-it expert
Interior trim expert
Jack-of-all-trades
Odd-job worker
Home repair professional 
Painter
Property maintenance worker
Repairman
However you describe your work, if you complete repairs or small improvements for customers, you need handyman business insurance!
Handyman Business Insurance: 6 Crucial Policies
At biBERK, we offer six essential handyman business insurance policies to shield your company from various risks.
Every handyman business is different. Some are just one person. Others are larger organizations with multiple employees. But wherever yours falls on the spectrum, you can get the coverage you need from biBERK.
General Liability Insurance - Also known as commercial liability insurance, this type of handyman liability insurance covers damages and legal costs associated with injury claims by customers and other people you don't employ, damage to other people's property that was caused by your business, and medical costs associated with these incidents. It also covers libel, slander, and copyright infringement. Plus, there are endorsements you can add to customize your policy, including contractors installation, tools & equipment, cyber, hired and non-owned auto liability, employment-related practices liability, and employee benefits liability.
Workers' Compensation Insurance - This insurance helps protect your handyman business if an employee is injured, contracts an illness, or dies as a result of an incident on the job. It can cover medical costs, legal fees, and lost wages due to the injury.
Business Owners Policy - Also called property & liability insurance, a business owners policy (BOP) combines general liability insurance with protection for the property you need to run your handyman business. If you own or rent a workshop, for example, a BOP can be an effective way to get the different coverages you need in one easy-to-manage policy. You can also tailor your BOP with add-ons including tools & equipment, cyber, hired and non-owned auto liability, employment-related practices liability, and employee benefits liability.
Commercial Auto Insurance - If your handyman business owns or leases vehicles—like pickups for you or your employees—business auto insurance  protects your business. It can provide coverage for your legal fees and the medical costs of others if your employee is at fault in an accident in your vehicle. It can cover the cost of damages even if the car or truck is used for personal activities outside of its primary business use.  
Umbrella Insurance - Every liability insurance policy has a maximum value that it will cover in the event of an incident. Umbrella insurance adds another layer of protection, potentially covering costs that exceed the limit of another biBERK liability policy up to its own limit. Without it, you may be responsible for anything over your policy limit. 
Cyber Insurance - This coverage can be purchased as an add-on to a general liability policy or a BOP. It helps cover costs related to system hacks or data security breaches in which sensitive data, like customer credit card information, has been stolen and fraud has occurred or there is a reasonable expectation that it might occur.
What Does Handyman Insurance Cost?
The great thing about insurance for a handyman being sold this way is that you can purchase only the policies you need. For example, if you don't have company-owned or leased vehicles, you probably don't have to purchase a commercial auto policy. 
In other words, you can get all the coverage you require to protect your business financially without paying for unnecessary coverage. And our licensed insurance experts are happy to help you understand your insurance requirements if you have questions.   
Your handyman insurance cost will vary based on the policies you purchase and factors that affect the cost of each. For example, the size of your business, your claims history, and other characteristics are considered in calculating your premiums. 
However, it's helpful to know that you can get hundreds of thousands of dollars in coverage for as little as hundreds annually. And if you need more coverage than that, we can provide it! 
Of course, each biBERK handyman insurance policy does more than deliver unrivaled financial protection. It also gives you tremendous peace of mind. For companies without adequate coverage, concerns about "what if" scenarios are a continual source of stress—on top of all the other issues of running a successful handyman business. But business owners who have secured the necessary policies sleep better at night knowing that they're covered should an incident occur. 
To learn specifically what you'll pay, you can get instant, self-service quotes online at your convenience. If your day has you continually on the move from one project site to the next, you can get quotes in the evening when things slow down. Or maybe you have a few free minutes in the morning, making that the perfect time to gather information on handyman insurance costs. 
Whenever you get quotes, you'll find that coverage from biBERK can be up to 20% less than policies from other insurance companies. That's because our direct-to-you business model means there aren't brokers or other intermediaries whose fees raise the cost of policies. As a result, more of your hard-earned revenue stays in your bank account!
And buying policies is as easy as getting quotes. No need to carve time out of your busy day to meet with an insurance agent. You can make your purchases online and have coverage active as soon as the next day in most cases. Plus, you can download a Certificate of Insurance (COI) for each of your policies from our website in case a landlord, potential client, or general contractor wants proof of insurance. 
In addition, it's also easy to use your biBERK insurance if necessary. If an incident occurs, you can report it online to get the claims process moving. And, if you have questions, our team is here for you! 
Who Has the Best Handyman Insurance? 
From our perspective, the best handyman insurance is coverage from a company with decades of business insurance experience, deep financial resources for paying claims, and countless satisfied customers.
We're happy to say that, as part of the Berkshire Hathaway Insurance Group, biBERK checks all those boxes and more! When you purchase insurance from us, you can be confident you'll receive great policies backed by exceptional customer service. If an incident occurs, you'll be assisted by a company that will help you overcome it quickly so your business can enjoy ongoing success.