How Hotel Insurance Insurance Protects Your Business
A guest slips in your lobby, falls, breaks their arm, and sues you. A storm sends a patio chair through a large window. Someone hacks your computer system and steals customer credit card information.
If you own or operate a hotel, you know these are just some of the kinds of incidents that can be very costly for your business—particularly if you don't have hotel insurance. Hotel insurance is a term that refers to a group of policies that owners likely need.
Without insurance covering lawsuits and property damage, a single unexpected event can result in a significant financial burden. Some hotel chains are large enough to absorb that cost. But for smaller ones, a sizable loss can be catastrophic. And, of course, when a business struggles with a large expense, the situation also affects its employees, business partners, and others.
So, learning about available hotel insurance coverage and obtaining the necessary policies should be a top priority for hotel owners and decision-makers.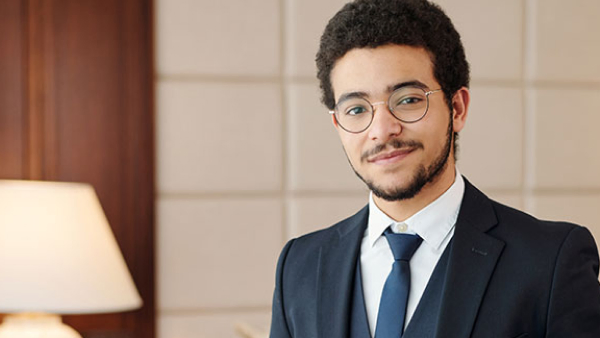 Insurance for Hotels: Who Needs It?
When considering insurance for hotels, it's important to remember that you don't have to have "hotel" in your business name to need it. It's better to think of this kind of coverage as hospitality industry insurance since the policies are crucial for many types of businesses, including:
Motels
Inns
Bed & breakfasts
Resorts
Lodging sites with conference facilities
If you host people for overnight stays, you likely need hotel insurance. And if you operate your hotel under a franchise agreement that requires certain types of insurance, we can help you get all the required coverages.
6 Essential Types of Hotel Insurance
What types of hotel insurance does a business like yours need? That varies based on your operations.
For example, many hotels can benefit from a business owners policy (BOP) that can protect them financially in several ways, including if their building or business property is damaged. But that's just one type of coverage a typical hotel might have.
The great thing about how business insurance is sold is that rather than an all-encompassing policy, you purchase only the coverages you need, which saves money for your business. And if your business changes, you can obtain additional policies.
That said, the six types of coverage most commonly needed by lodging providers are:
Workers' Compensation Insurance. Most states require this insurance for any company with employees. It helps protect your hotel if a worker is injured, contracts an illness, or dies as a result of an incident on the job. It can cover medical costs, legal fees, and lost wages due to the injury.
General Liability Insurance. You may hear this referred to as commercial liability insurance. It covers costs associated with injuries to guests and other people you don't employ and damage to other people's property caused by your employees. It also covers libel, slander, and copyright infringement. Plus, you can add endorsements to customize your policy, including cyber, hired and non-owned auto liability, employment-related practices liability, and employee benefits liability. 
Business Owners Policy. This is also called property & liability insurance. A business owners policy (BOP) combines general liability insurance with protection for the property you need to operate your hotel—the building, business personal property like furniture and equipment, etc. It can also cover lost income in the event of a loss or damage. As you can with a general liability policy, you can tailor your BOP with add-ons, including cyber, hired and non-owned auto liability, employment-related practices liability, and employee benefits liability. 
Commercial Auto Insurance. If your hotel owns or leases vehicles, this policy protects the business. It can cover your legal fees and the medical costs of others if your employee is at fault in an accident in your vehicle. It can pay for damages even if the vehicle is used for personal activities outside of its primary business use.  
Umbrella Insurance. Every liability insurance policy has a maximum it will pay in the event of an incident, with your business being responsible for any amount over that figure. Umbrella insurance adds another layer of protection, potentially covering costs that exceed the limit of another biBERK liability policy up to its own limit.  
Cyber Insurance. You can purchase this coverage as an add-on to a general liability policy or a BOP. It helps cover costs related to system hacks or data security breaches where sensitive data, like customer credit card information, has been stolen and fraud has occurred or there is a reasonable expectation that it might occur.
You can get more information about each of these policies on our website. Plus, our licensed insurance professionals are always happy to answer your questions and help you decide which insurance for hotels you need. If you're new to researching and purchasing hotel insurance coverage, their assistance can make the process much easier.
Among the Most Affordable and Reliable Hotel Insurance Programs
Knowing that business insurance is crucial for hotels, you probably wonder how much hotel insurance costs. Premiums vary based on several factors: the policies you buy, the size of your business, your claims history, and others.
But what you'll find with biBERK is that our hotel insurance policies are among the most affordable in the industry. That's because we sell coverage directly to you with no brokers or other intermediaries. Consequently, you can save up to 20% over other hotel insurance companies.
Find out what you'll pay with instant, self-service hotel insurance quotes.
And, of course, you can't put a price on trust. As part of the Berkshire Hathaway Insurance Group, we have the financial resources to pay approved claims fully and promptly. In addition, as a company, we've proven over several decades that we'll be there for policyholders should they be sued or suffer property damage.
Some people believe all insurance is the same, but the reality is that where you get your policies matters. Imagine an incident occurs, and your insurer can't or won't pay your claim right away. That's not a farfetched scenario, as many businesses that have purchased coverage elsewhere can unfortunately attest. And if it happens to you, your business can be left struggling to find a way to pay a large out-of-pocket expense. Even if the insurer ultimately covers your claim, this type of situation can stress your finances.
How To Buy Hospitality Industry Insurance
We get it—you're busy, and you don't look forward to shopping for insurance! But we've got good news. Our insurance programs for hotels make it easy for owners and decision-makers like you to understand and obtain the coverage they need.
As noted above, it's simple to get hotel insurance policy quotes. Then, when you're ready to purchase coverage, you can also do that online. You can even report claims and manage your policies on the biBERK website.
You Concentrate on Running Your Hotel. biBERK Has Your Back
Hotels are busy places, and you likely have a long to-do list that never seems to get shorter. But one item you can tackle quickly and cross off is obtaining hotel insurance. Once you purchase your policies, you can turn your attention to other tasks, knowing biBERK will be there for you should an incident occur.
We'll be happy to assist you when you need to renew your policies or want to modify your coverage to accommodate changes in your business. But otherwise, you can focus on the hotel business, and we'll quietly and competently handle your financial protection.