How Pet Business Insurance Protects Your Company
Whether you do pet sitting, dog walking, pet grooming, or some other form of pet care, you deal with animals that can be unpredictable. They're also cherished family members, so their owners can be frustrated, angry, and ready to file a lawsuit if anything goes wrong.
That's why every company in this space needs pet business insurance.
Pet business owners hope everything goes smoothly in every engagement. Unfortunately, that's not always the case. A dog slips off the grooming table and suffers a significant injury requiring expensive veterinary care. A cat sneaks out the front door as you visit to feed her and is struck by a car and killed. A dog you're walking gets away from you, chases a squirrel, and breaks several planters and decorations on a neighbors porch.
If you don't have adequate insurance to cover these issues, you could be left with a sizable out-of-pocket expense for your legal defense, court-awarded damages, etc. It's not uncommon for those expenses to be in the tens of thousands of dollars or more. Sadly, many uninsured small businesses go bankrupt due to these types of incidents. That can not only be the end of your existing business, but it can also make it difficult to start a new pet care venture down the road.
That's the bad news. The good news is that it's easy to research pet business insurance and secure adequate coverage to protect your company from unexpected but all-too-common incidents.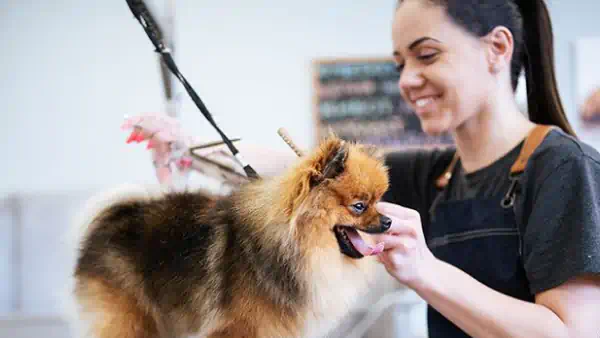 Does Your Company Need Animal Business Insurance?
The terms "pet care business" and "animal business" are very broad. They cover a long list of business types, including:
Dog walkers
Pet groomers
Veterinarians
Kennels
Pet sitters
Dog training companies
Humane societies
Mobile dog grooming companies
Pet adoption agencies
Service animal trainers
Essentially, if your company provides pet-related services, you need animal business insurance.
7 Essential Types of Pet Business Insurance
Pet care insurance is a type of business insurance. There are several policy types that a pet care business might need. Each addresses different kinds of risk.
For instance, a general liability policy can cover you if a customer visiting your pet grooming shop slips on a wet floor, injures their shoulder, and sues you for the cost of their medical care. A commercial auto policy could pay for expenses related to an accident caused by your employee in a company-owned or leased vehicle.
The nice thing about buying insurance this way (rather than as one all-encompassing policy) is that you can purchase only the coverage you need. So, if you don't own or lease vehicles, you don't require the commercial auto policy mentioned above.
The pet business insurance policies most often needed are:
check

Workers' Compensation Insurance. Most states require this insurance for any company with employees. It helps protect your pet care business if a worker is injured, contracts an illness, or dies due to an incident on the job. It can cover medical costs, legal fees, and lost wages due to the injury.

check

General Liability Insurance. Also called commercial liability insurance, this type of policy covers several risks, including injuries to customers and other people you don't employ at your business location and damage to other people's property caused by your employees. It can also pay costs related to libel, slander, and copyright infringement. Plus, you can add endorsements to customize your policy, including cyber, hired and non-owned auto liability, employment-related practices liability, and employee benefits liability.

check

Business Owners Policy. This is also called property & liability insurance. A business owners policy (BOP) combines general liability insurance with protection for the property you need to operate your pet care business. It can also pay for lost income due to a covered event. As you can with a general liability policy, you can tailor your BOP with add-ons, including cyber, hired and non-owned auto liability, employment-related practices liability, and employee benefits liability.

check

Commercial Auto Insurance. If your company owns or leases vehicles, this policy protects the business. It can cover your legal fees and the medical costs of others if you or your employee is at fault in an accident in your vehicle. It can pay for damages even if the vehicle is used for personal activities outside its primary business use.

check

Professional Liability Insurance. Available for veterinarians, this policy (called errors and omissions insurance in some industries) protects your business if a customer sues you, claiming your services didn't meet industry standards and they suffered a loss as a result.

check

Umbrella Insurance. Every liability insurance policy has a maximum it will pay in the event of an incident, with your business being responsible for any amount over that figure. Umbrella insurance adds another layer of protection, potentially covering costs that exceed the limit of another biBERK liability policy up to its own limit.

check

Cyber Insurance. You can purchase this coverage as an add-on to a general liability policy or a BOP. It helps cover costs related to system hacks or data security breaches where sensitive data, like customer credit card information, has been stolen and fraud has occurred or there is a reasonable expectation that it might happen.
You can get additional information about each of these policies on our website. And if you have questions about them, our licensed insurance professionals are always happy to answer them. That includes helping you determine what pet business insurance policies are appropriate for your company.
If you need pet sitting insurance, dog walking insurance, pet grooming insurance, or coverage for any type of pet-focused business, a good approach is to start your research on our website. That's convenient since you can learn about policies whenever you have some downtime. Then, if you have questions about the specifics of a particular policy, you can reach out to us for clarification.
What Does Animal Business Insurance Cost?
The premiums for animal business insurance policies vary based on several factors: the type of coverage, the size of your business, your claims history, and others. But you can quickly find out what you'll pay with instant, self-service animal business insurance quotes.
You'll be glad to know that you can typically get hundreds of thousands of dollars in coverage for as little as a few hundred dollars per year. And because bibERK sells directly to you with no brokers or other intermediaries, you can save up to 20% over other pet care business insurance providers.
Just as importantly, we're part of the Berkshire Hathaway Insurance Group. That means we have the financial resources to pay approved claims fully and promptly. In addition, as a company, we've proven over several decades that we'll be there for policyholders should they be sued or suffer property damage. Not every company can claim that trustworthiness and reliability.
Buying Pet Business Insurance is Simple!
Our focus as a leading provider of pet business insurance is making it easy to get the reassuring financial protection you need. So, we enable you to purchase policies online, with coverage active as soon as the next day in most cases. You can also manage your policies and report claims online for maximum convenience.
You've got a business to run and pets to care for. Once you've taken a few minutes to purchase policies from biBERK, you can turn your attention back to operating your business. You can also sleep better at night, knowing we're here for you with solid financial protection should you ever be sued or suffer property damage.
Check out our pet business insurance policies and get covered today!