How Financial Advisors Insurance Protects Your Business
Working as a financial advisor or operating a financial services firm comes with several risks, from liability over the services you provide to incidents like slip-and-fall accidents when clients visit your office. The cost of lawsuits in these and other scenarios can be high, including court-awarded damages and legal defense expenses.
The good news is that financial advisors insurance can cover many types of claims and protect you and your firm from a large financial burden.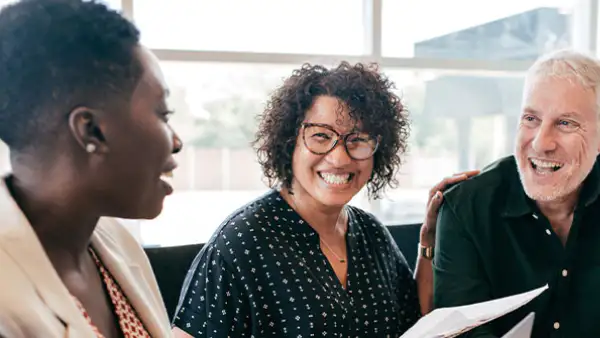 Financial Planner Insurance Claims Examples
If you're wondering, "How can financial planner insurance protect my business," here are some real-world examples:
You fail to submit a form on behalf of your client by the deadline, they suffer a financial loss as a result, and sue you.
A fire breaks out in your office overnight, destroying your furniture, computers, and other business assets.
One of your financial planners is at fault in a car accident while driving a vehicle your firm leases.
Someone sues you after being injured at your office, the lawsuit exceeds the limit of your general liability policy, and you have an umbrella policy.
In all these instances, small business insurance can provide financial protection.
Financial Advisors Insurance: 7 Essential Policies
"Financial advisors insurance" is an umbrella term for various coverages you may need. Which policies you should purchase varies based on the specifics of your business operations. Still, every financial planner can benefit from one or more of these seven essential small business insurance policies:
Financial Advisors Errors & Omissions Insurance - Errors and omissions (sometimes called E&O insurance for financial advisors or professional liability insurance) can protect you if a client claims you made a mistake and it cost them money. E&O insurance for financial advisors can cover your legal defense costs and court-awarded damages up to its limit. It's important to note that this insurance does not cover direct losses from investments in risky assets or guarantees of return on investment.
Financial Advisors Workers' Compensation Insurance - Companies with employees are nearly always required by their states to have workers' compensation insurance. It can pay an employee's medical bills and lost wages if they're injured on the job. There's also a death benefit for the family of someone who dies as a result of a work-related accident. 
Financial Advisors General Liability Insurance - This policy covers several scenarios that can create liability for your firm, including bodily injuries to non-employees, libel, slander, and others. In addition, you can tailor it to your needs with add-ons like cyber, hired and non-owned auto liability, employment-related practices liability, and employee benefits liability insurance.
Financial Advisors Commercial Auto Insurance - If your business owns or leases vehicles and uses them for purposes like traveling to client meetings, this policy can protect you. It can cover your legal fees and the medical costs of others if your employee is at fault in an accident while driving a company car. The policy can pay for damages even if the vehicle is used for personal activities outside its primary business use.
Financial Advisors Business Owners Policy - A business owners policy (BOP) combines general liability coverage and protection for company property. That includes a building you own, space you rent, and equipment needed to run your business. The policy can also provide payment for business interruption due to a covered loss, including expenses associated with continuing or resuming operations after suffering property damage. Like with a general liability policy, you can customize your BOP with add-ons such as cyber, hired and non-owned auto liability, employment-related practices liability, and employee benefits liability insurance.
Financial Advisors Cyber Insurance - Purchased as an add-on to a BOP or general liability policy, this coverage can pay expenses related to someone illegally gaining access to sensitive information in your possession and using it to commit fraud. 
Financial Advisors Umbrella Insurance - If a lawsuit filed against your firm exceeds the limit of the underlying biBERK liability policy, umbrella insurance can cover the difference up to its limit.
Should You Carry Financial Planning Insurance?
Do you need small business insurance? The short answer is yes. Policies like E&O insurance for financial advisors and general liability are crucial for protecting your firm financially, and you likely need others as well.
Keep in mind that although we often refer to these policies as financial planning insurance, they're vital for a wide variety of financial services professionals and companies, including:
Bond brokers
Commodities brokers
Equities and bonds companies
Financial advisers
Financial consultants
Investment advisors
Stock advisors
Stockbrokers
Stock and bond brokerages
Stock traders
Wealth management advisors
If your firm operates in any of these areas, you should obtain small business insurance, which you can do easily online with biBERK. In most cases, coverage is active the next day.
And if you have questions about what types of coverage you need, our licensed insurance experts are happy to assist you.
What Does Financial Advisors Insurance Cost?
Financial advisor's insurance policies are priced individually, and your cost will depend on things like the size of your business, your insurance claims history, and other factors. But it's not uncommon for a biBERK policy to provide six or seven figures of coverage for less than $1,000 annually.
We can offer small business coverage for up to 20% less than other companies in some cases because we sell directly to you with no broker or other intermediary. You can find out what you'll pay for policies by getting instant, self-service online quotes whenever it's convenient.
Get Rock-Solid Financial Planner Insurance From a Recognized Leader
biBERK is a Berkshire Hathaway Insurance Group company. As an organization, we have over 75 years of insurance experience, millions of satisfied customers, and billions in paid claims annually. Plus, our major insurance subsidiaries are rated A++ by A.M. Best Company and AA+ by Standard & Poor's Corporation.
Not every small business insurance company has the experience and financial resources necessary to protect your business. But we do, so if you ever need to report a claim, you can rest assured that we'll be there for you.