How Lawn Care Business Insurance Protects Your Company
If you own a lawn care or landscaping company, you know your business faces many risks. Every time you or your team sets foot on a property, there's a chance a problem will arise. Maybe someone on a riding mower hits a stone retaining wall, causing thousands of dollars of damage. Or perhaps you're digging a trench and you cut a cable of some kind. These incidents and a long list of others could result in your client filing suit against you.
And the business risks don't end when you leave a jobsite. You might cause an accident while driving a company vehicle. Or a storm could damage your storage shed, destroying mowers you have stored there. And employees can suffer injuries at any point during their workday.
If an incident occurs and you don't have adequate insurance, the result can be an enormous financial burden—so big, in fact, that it could put you out of business. That scenario is an unfortunate reality for many companies each year. Hit with a lawsuit or expensive property damage that isn't covered by insurance, they have no choice but to close their doors permanently.
But that's the dark side of business risk. The bright side is that all of the issues described above can be covered by lawn care business insurance. It provides financial protection for lawn care and landscaping companies, so owners and employees can focus on doing great work.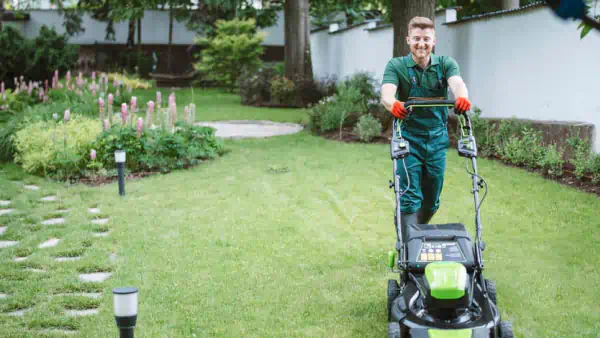 Do You Need Lawn Care Insurance?
We're using general terms like "lawn care business" and "landscaping company" in this article, but you might describe yourself or your business another way, such as:
Commercial lawn care service
Gardening company
Landscaper
Tree trimming service
Landscape architect
Arborist
Residential lawn care company
Landscape specialist
Lawn maintenance company
Lawn mowing service provider
Whatever term or terms you use, if you work on lawns and landscapes for clients, you need landscaping business insurance to protect you from business risks.
Consider These 6 Lawn Care Insurance Policies
At biBERK, we are a trusted insurance provider to landscaping and lawn care companies. The policies they purchase vary based on the specific types of work they do. However, all companies in this industry need one or more of the six lawn care business insurance policies described below. Without adequate coverage, businesses are exposed to serious financial consequences should an incident occur.
Workers' Compensation Insurance
This insurance is required by states for virtually all companies with employees. It helps protect your landscaping business if a worker is injured, contracts an illness, or dies as a result of an incident on the job. It can cover medical costs, legal fees, and lost wages due to the injury.
General Liability Insurance
Also known as commercial liability insurance, this type of lawn care liability insurance covers damages and legal costs associated with injury claims by customers and other people you don't employ, damage to other people's property that was caused by your business, and medical costs associated with these incidents. It also covers libel, slander, and copyright infringement. Plus, there are endorsements you can add to customize your policy, including contractors installation, tools & equipment, cyber, hired and non-owned auto liability, employment-related practices liability, and employee benefits liability.
Business Owners Policy
Also called property & liability insurance, a business owners policy (BOP) combines general liability insurance with protection for the property you need to run your lawn care business. If you own or rent a storage facility for your equipment, for example, a BOP can be an effective way to get the different coverages you need in one easy-to-manage policy. You can also tailor your BOP with add-ons including cyber, hired and non-owned auto liability, employment-related practices liability, and employee benefits liability.
Commercial Auto Insurance
If your landscaping business owns or leases vehicles—like pickups and trailers for hauling equipment—this policy protects your business. It can provide coverage for your legal fees and the medical costs of others if your employee is at fault in an accident in your vehicle. It can cover the cost of damages even if the vehicle is used for personal activities outside of its primary business use.
Umbrella Insurance
Every liability insurance policy has a maximum it will pay in the event of an incident. Umbrella insurance adds another layer of protection, potentially covering costs that exceed the limit of another biBERK liability policy up to its own limit. Without it, you may be responsible for anything over your policy limit.
Cyber Insurance
This coverage can be purchased as an add-on to a general liability policy or a BOP. It helps cover costs related to system hacks or data security breaches in which sensitive data, like customer credit card information, has been stolen and fraud has occurred or there is a reasonable expectation that it might occur.
As noted above, these policies are sold separately. That helps you keep your insurance costs down. And, you can make changes as your company grows or evolves. For instance, imagine you don't currently have any company-owned or leased vehicles. In that case, you don't need a commercial auto policy. But let's say your business is growing and you decide to buy a few pickups for your crews to use. At that point, it's important (and likely required) that you purchase commercial auto coverage.
Not familiar with insurance for lawn care businesses and need some guidance? Our licensed insurance professionals are happy to talk with you about your business and help you decide which policies to purchase.
Your Lawn Care Insurance Cost: Reassuring Protection for Just Hundreds Annually
Your lawn care insurance cost will vary based on the policies you buy and factors that affect the premium for each. This includes the size of your business, your claims history, and others.
But to give you a sense of what you get for your money, you can purchase hundreds of thousands of dollars in coverage for as little as hundreds annually. That makes financial protection very cost-effective, especially when you consider that even a minor mishap can cause several thousand dollars of damage or more.
To get specifics on your cost for coverage, you can obtain instant, self-service lawn care insurance quotes online at your convenience—in the morning before you get going, as you stop for lunch, in the evening after work, or whenever.
You'll be happy to learn that coverage from biBERK can be up to 20% less than policies from other insurance companies. That's because our direct-to-you business model means there isn't anyone "in the middle" whose services increase the cost of policies. That means more of your hard-earned revenue stays in your pocket!
What's involved in buying landscaping business insurance? It's essentially as easy as getting quotes. You make the purchases on our website, with coverage being active as soon as the next day in most cases. You can also download a Certificate of Insurance (COI) for each of your policies and report claims online.
But the fact that we've made it easy to get and use lawn care business insurance doesn't mean you're "on your own." If you have questions or need assistance, our friendly and knowledgeable insurance experts are eager to assist you!
Where You Get Your Lawn Care Insurance Matters
Business owners often wonder who has the best lawn care insurance. From our perspective, it makes sense to purchase coverage from a company with decades of business insurance experience, ample financial resources for paying claims, and countless satisfied customers.
We're happy to say that, as part of the Berkshire Hathaway Insurance Group, biBERK meets all of those criteria! When you buy insurance from us, you can be confident you'll receive great policies backed by attentive customer service.
We "get" small businesses like lawn care and landscaping companies and love seeing them thrive. If an incident affects your operations, we'll help you overcome it quickly so you can stay focused on your business.