Business Insurance for Lawyers: What You Need to Know
Lawyers and law firms face many types of risks. These include being sued for alleged mistakes, damage to an office or other business property, bodily injuries to clients and other office visitors, etc. Consequently, business insurance for lawyers is essential. It can cover a wide variety of claims, so you or your firm doesn't have to pay them out of pocket.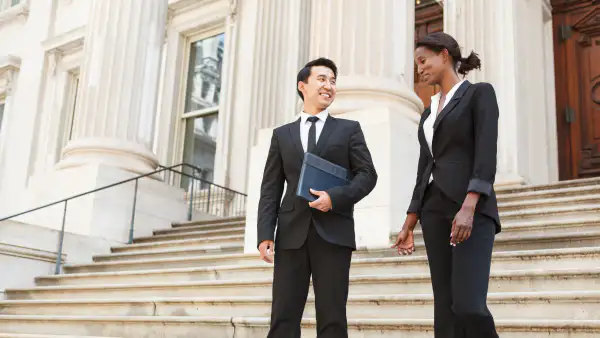 What Types of Lawyers' Business Insurance are Available?
The types of lawyers' business insurance you need depends on factors specific to your practice, location, etc. However, these seven types of insurance are commonly purchased by attorneys and law firms:
Professional Liability Insurance
Also known as legal malpractice insurance or errors and omissions (E&O) insurance, this policy can protect you from the cost of damages and legal fees if someone claims an error you made caused financial harm to them or their business. Coverage includes mistakes (errors) and the failure to perform a service (omissions). If you fail to file a court document before the deadline, for example, and your client suffers a financial injury as a result, your professional liability policy may protect you if they sue.
Workers' Compensation Insurance
This insurance, which is required for most organizations that have employees (attorneys, paralegals, receptionists, etc.), helps protect your business if an employee is injured, contracts an illness, or dies due to an incident on the job. It can cover medical costs, legal fees, and lost wages due to the injury. Something as simple as an employee being burned by a malfunctioning coffee maker in your kitchen can lead to a workers' comp claim.
General Liability Insurance
Also known as commercial liability insurance, a general liability policy can cover damages and legal costs associated with injury claims to people you don't employ (clients, delivery people, etc.). Slip-and-fall accidents at your location are an example. It can also provide payment for damage you cause to other people's property. In addition, this policy affords financial protection in incidents of libel, slander, and copyright infringement. Plus, you can add endorsements to customize your policy, including cyber, hired and non-owned auto liability, employment-related practices liability, and employee benefits liability.
Business Owners Policy
Also known as property & liability insurance, a business owners policy (BOP) combines general liability insurance with coverage for your firm's property. It provides protection for the building you own, the space you lease, and any property needed to run your business. A BOP can also cover business interruption, replacing lost income and paying other costs associated with getting your firm operational after suffering property damage. As with a general liability policy, you can customize your BOP with add-ons, including cyber, hired and non-owned auto liability, employment-related practices liability, and employee benefits liability.
Commercial Auto Insurance
If your firm owns or leases vehicles, this type of law firm insurance protects the business. It can provide coverage for your legal fees and the medical costs of others if your employee is at fault in an accident—for instance, if a paralegal driving a firm-leased vehicle runs a stop sign and causes an accident. It can cover the cost of damages even if the vehicle is used for personal activities outside of its primary business use.
Cyber Insurance
You can purchase this coverage as an add-on to a BOP, general liability, or errors and omissions policy. It helps cover costs related to computer system hacks or data security breaches where someone has stolen sensitive information, and fraud has occurred or there is a reasonable expectation that it might happen.
Umbrella Insurance
Every liability insurance policy has a maximum value that it will cover in the event of an incident. Umbrella insurance adds another layer of protection, covering costs that exceed the limit of another biBERK liability policy up to its own limit. 
Insurance for Law Firms: Who Needs It?
Many types of legal professionals and organizations should have business insurance, including:
Attorneys
Bankruptcy law firms
Corporate lawyers
Criminal law offices
Defense lawyers
Employment law attorneys
Environmental law firms
Estate law firms
Family law offices
Immigration lawyers
Independent attorneys
Insurance attorneys
Law firms
Law practices
Lawyers
Legal aid services
Legal counsel
Legal practices
Legal representatives
Patent law attorneys
Personal injury lawyers
Pro bono lawyers
Probate law firms
Prosecutors
Real estate lawyers
Tax law attorneys
Important Details About Professional Liability Insurance for Lawyers
Many states require attorneys to disclose to clients if they don't carry professional liability insurance that meets specified minimum limits. You should purchase at least that amount to encourage clients to choose you.
We recommend having at least $1 million in coverage since the cost of legal malpractice defense and awards can be very high.
What Does Insurance for Attorneys Cost?
Several factors affect the cost of insurance for attorneys, including practice area, years practicing, and number of clients, to name a few. However, business insurance policies are very affordable for the amount of protection they provide. Costs can range from $50 to $300 per month per attorney.
You can find out what you'll pay for coverage by getting instant online quotes for lawyer business insurance.
Obtaining Insurance for Attorneys is Simple
In addition to getting quotes for insurance for law firms online, you can purchase the policies you need on our website, with coverage active almost immediately. You can manage your policies and report claims online, as well, for maximum efficiency and convenience.
Business Insurance for Lawyers: Where You Purchase It Matters
Many companies currently offer business insurance for lawyers. However, it's critical that you work with an insurance company with extensive industry experience, ample resources for paying claims, and attentive customer service that makes doing business with them easy. As a Berkshire Hathaway Insurance Group company, biBERK checks all those boxes.
We have more than 75 years of experience and millions of satisfied customers. And we paid $38 billion in claims in 2020. If you should ever have to report a claim, you can be confident that we'll work with you to pay it promptly. Plus, our direct-to-you business model means we can offer policies at costs that are as much as 20% less than other providers.